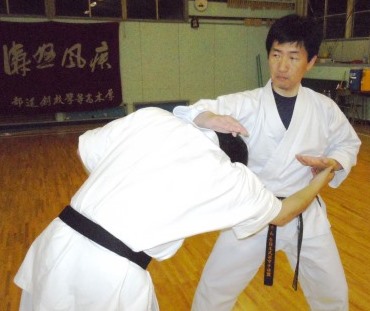 Who are "Wai Shinzan" and "Tou Ruko?"

(These are the pronunciations of an old Okinawan language.

"Wai Shinzan" was a Chinese martial artist and teacher of ARAGAKI Sesyo (teacher of HIGAONNA Kenryo). His real name was WANG Daxing (王打興:1793?~1894?). He came to Okinawa twice, once in 1838 and once in 1866 – as a military arts executive accompanying representatives ofthe Chinese government. The pronunciation "Wai Shinzan" originates from "Wang Shijiang:王師匠" (meaning the way of Wang Sensei). Wai Shinzan had kept close relations with Shihan in Okinawa. In the martial arts book "BuBushi", mainly handed down to Gojo-Ryu, his philosophy is recorded with his pen name "WANG Yuedeng王登岳." ("BuBushi" can be called the Bible of Gojo-Ryu.) He can be regarded as one of the founders of Gojo-Ryu. MATUMURA Sokon, however was his student too, and his influences are also seen in Syuri-De (the roots of Syotokan-Ryu (Shotokan- Ryu) and Shorin-Ryu) and Tomari-De. For example, the names of kata such as "Wankan," "Wansyu," and "Unsu" originate in the alias named Wang Shijiang. "Wankai" is a shortened form of "Wan-Bukan王武官". Bukan takes its meaning from "martial bureaucrat." "Wansyo" is a shortened form of "Wang Shijiang" (meaning Wang Sensei). Unsu is the one that is the shortened form of "Wang Shijiang" and the pronunciation has changed. Incidentally, he was a famous martial artist in the Chinese "White Crane Kung Fu" style. As a result Karate was influenced from this type of Kung Fu.

(Note: Wai Shinzan = Wang Shijian = Wang Daxing = Wang Yuedang)


Bubishi"(武備志… It is said the Bible of Gojuryu.)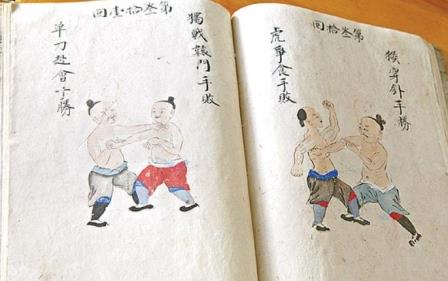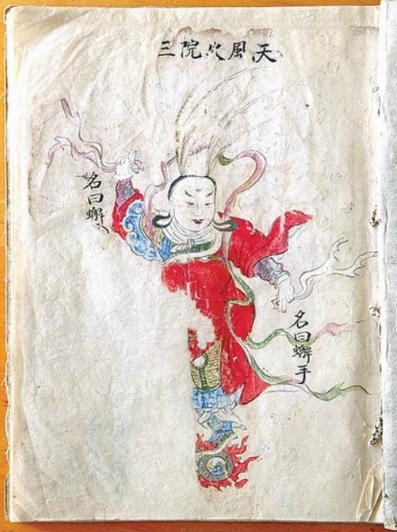 沖縄の武備志             中国の武備志(清王朝中期の手彩色本 鶴拳拳譜) 沖縄伝武備志の原版
The Bubishi of Okinawa        The original edition"Genealogy of Fujian White Crane"(China in 17th century) 

"Tou Ruko" is presumed to be HIAGONNA Kanryo's teacher. Of course, this pronunciation is in the Okinawan language. Therefore, there are various theories about "Tou Ruko." What does "Tou Ruko" have to do with the roots of Gojo-Ryu being similar to Wai Shinzan? It is presumed perhaps that he was Ton Lee-Kun"鄭礼公", a Chinese expert of "Fujian White Crane." More specifics about Ton Lee Kung will be presented later.
---
Kanryou Higaonna (1853 – 1916) 東恩納 寛量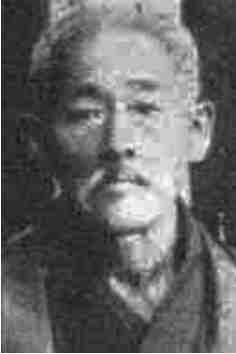 Okinawa at the time (19 century)  
 

Kanryu Higaonna had three famous students -- Juhatsu Kyodo, Chojun Miyagi, and Seko Higa. Kanki Izumikawa learned the fundamentals from Juhatsu Kyodo and became the oldest student of Seko Higa. Higaonna handed down four kata: Sanchin, Sesan, Sanseru, and Bettyurin. Bettyurin is assumed to be an alias of Suparinpei. There is also a reason however, that this may not be true. There is proven documentation that these kata had existed in Okinawa before Higaonna. It has been believed Higaonna stayed in China for 10-30 years and learned Kung-Fu from a master named Tou Ruko (Ru Ruko). Recently, however, there is a new theory that the length of time he stayed in China was about three years, the purpose being for business. My master said that there is no proof of the existence of Ruruko. What is known is that Higaonna certainly went to China, and it is known that he helped a child during a flood. He came to learn Kung-Fu from the child's father, but there is no proof that the father's name was Tou Ruko and that he was a Kung-Fu master. In China, when a man calls to a younger man, it is custom for the last character of the younger man's name to be repeated twice. In that case, Higaonna Kanryo would be called Ryo-Ryo or Ru-Ru in Chinese.

We are convinced that the name of Ru-Ruko is not the name of Higaonna's master but of a Chinese with the name of Higaonna. A Chinese with the name of name of Higaonna may have been misidentified with his master's name. Still, people travel to China looking for Ru-Ruko. Of course, the person whose name was Ru-Ruko would probably never be discovered. What they are really arguing about is misunderstanding when they discover a Chinese master with a name that looks likes Ru-Ruko. However, it is just a fantasy because the Kung-Fu of the person they think they identified does not correspond to Gojo-Ryu at all. However the name "Tou Ruko" had been memorized by HIGA Seko. Therefore, his reputation has not been compromised according to these facts. Higaonna was able to compile into a system the history of Nafa-de that had gotten lost and was able to pass it on to future generations. As a result, Gojo-Ryu exists today.




Juhatsu Kyoda(1887–1968)許田 重発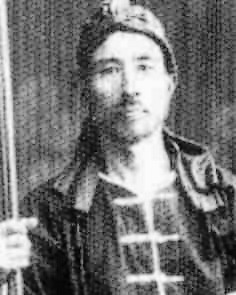 He was the oldest student of Kanryo Higaonna.
He founded Touon-Ryu from the difference of opinion with Miyagi. "Touon" is Higaonna variant pronunciation..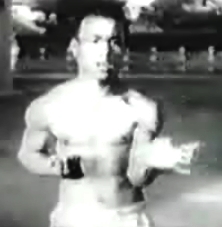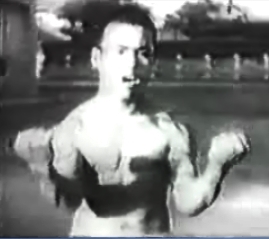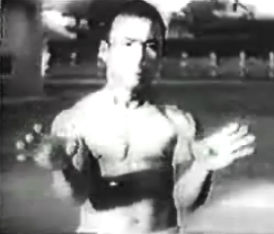 Young Kyoda (Movie before WW Ⅱ that had miraculously remained) "Tensyo"


---
 Chojun Miyagi(1888-1953)宮城 長順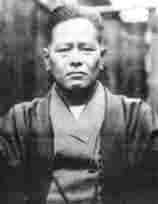 MIYAGI Chojun(his nick name was "Machu")had a major influence on the spread of Goju-Ryu Karate to Japan. He taught many students of universities in region of western Japan. And many students were also taught at his dojo in Okinawa. Miyagi expanded upon the Karate of Higaonna, adding new and original elements to it, resulting in the completed form of Goju-Ryu. The name "Goju-Ryu" was designated by Niisato Jinan who was his best apprentice in 1929. The three kata that Higaonna taught Migagi were Sanchin, Sesan, and Suparinpei. Miyagi did not learn Sanseru directly from Higaonna but was tajght this kata by Kyoda Juhatsu.
Gekisai1, Gekisai2, and Tensyo are the kata that Miyagi created. Suparinpei is the kata that was handed down by Bettyurin which was improved and corrected by Miyagi. Higaonna did not teach the kata named Sanparinpei. The Bettyurin that Higaonna taught is maintained with Touon-Ryu that is in the direct line of Higaonna and Kyoda today. Shito-Ryu has the Suparinpei kata but the kata is known as Bettyurin in that school. That kata is, however, the same as Superinpei of Goju-Ryu. It is clearly different from the Bettyurin kata of Touon-Ryu.
Where then did Saifa, Seienchin, Shisouchin, Sepai, and Kururunfa kata come from? It turns out that there is documentation shows that Shisouchin existed before Higaonna. The opening operation of Saifa, Seienchin, Sepai, and Kururunfa do not have sanchin operation. They are, in fact, obviously different from other kata of Goju-ryu. Moreover, these kata do not exist in Touon-Ryu that is in the direct line of Higaonna and Kyoda. This means Miyagi must have had another teacher besides Higaonna. Who was he?
It is presumed that the person who taught these kata to Miyaga is Motobu Choyu (1857-1928). Motobu Choyu was a member of the royal family in Okinawa. This means he had access to many great masters of excellent studies, martial arts and arts from an early age. Moreover, he was a great master of "Udon-di" that was handed down through the royal family.
Motobu Choyu formed the Okinawa Karate Research Club in 1923 as a joint Karate research organization. As a result, a lot of famous Karate masters participated in the club. It so happens that Miyagi Chojun and Mabuni Kenwa took active roles as members in the club staff. Motobu maintained several kata that were able to be known through association with the royal family, Miyagi Chojun learned many of the kata from Motobu. It is believed that Saifa, Sisouchin, Seienchin, Sepai, and Kururunfa came from Motobu because the kata all share similar techniques including joint locks, chokeholds, tighten holds, grappling holds, and throws that are common elements of Udon-di. Motobu endeavored to advance Okinawan martial arts until his death in 1928.
Motobu's death along with divisions within the sect caused by financial difficulties resulted in the decline and eventual disappearance of the Okinawa Karate Research Club。
Another important person with roots in Goju-Ryu is Go Kenki (1886-1940). Kenki was a naturalized person from China, and his martial arts lines are of Crane Kung-Fu. Miyagi Chojun was always interested in this technique. His strong influence can be seen in Tensyo and Suparinpei. The "Kakufa" kata from Go Kenki is maintained in Higa Seko's Goju-Ryu as a secret Kata. It also appears that "Yantu" from Mas Oyama's (Kyokushi-Kai's) kata is along the lines of the same Kung-Fu. Mas Oyama was coming from Goju-Ryu. It is said that Mas Oyama learned Yantu in Taiwan.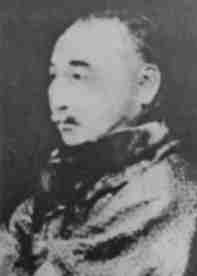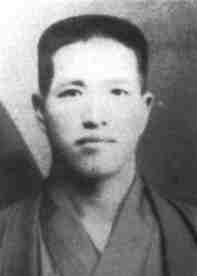 Motobu Choyu(1857-1928)  Go Kenki.( 1886~1940)


---
Sekō Higa
(1898–1966) 比嘉 世幸
---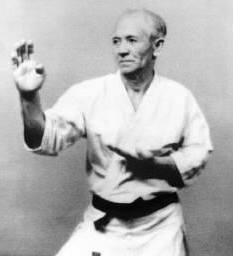 A relative and last student of Kanryo Higaonna, Seko(Seiko) Higa studied under Chojun Miyagi who was the senior pupil at the time of the death of Higaonna. The idea and action of of their Karate, however, were considerably different.
Chojun Miyagi thought of Karate as physical education, equal with Judo and Kendo. Because he valued school education the first people he taught in Japan proper were university students who were part of the elite social class. In contrast, Higa started succeeding to Naha-Di as a martial art with the center of his activity being Okinawa. Kanryou Higaonna and Kanki Izumikawa were relatives of each other. Moreover, Higaonna and Higa's father were relatives and best friends. In his boyhood, Higa was exposed to the Karate preaching of his father and Higaonna. It can be said that Goju-Ryu karate was their family's own martial art. Juhatsu Kyoda was Kanki Izunikawa's teacher at primary school.
Kazunori Omoto 尾本一則(1958~)

Kancho Omoto has been studying Karate under Hanshi Naganuma (who was the last student of Hanshi Izumikawa) since 1973. He also earned a Masters of Arts degree in Comparative and International Education from the Waseda University Graduate School of Education, Tokyo, Japan in 1982.
When he acquired his Black Belt, the Karate of Japan was facing an important pivotal turning point. There was a movement of integrating a fusion of various Kata, from various family trees within the curriculum of traditional Karate, into the Japan Karate Federation (JFK). Furthermore, though these Kata were similar in name and sometimes employed similar movement, the true interpretation and application of the Kata,in many cases, has become widely misunderstood. The results of Omoto Sensei's path, his choices, and his lifelong research are the subject matter of this website.
He lectured in Ethics as a high school teacher for 32 years. During the time period, he has also carefully guided and brought up generation after generation of high school students, athletes and Karate enthusiasts. From 1993 to 2013, he was a position of Saioko Shiihan of WBKL Furinkazan Karatedo which Terutomo Yanazaki, the first champion of Kyokushin, was an originator.
Kancho Omoto's students have made extraordinary efforts, and acquired victories and various awards in the All-Japan Karate Championships (Zen Nihon Senshuken Karate Taikai), the Tokyo Metropolitan Area Karate Championships (Wangan Chi i ki Taikai, the Pacific Ocean District Championships (Taiheiyou Chi i ki Taikai), and various municipality district championships. Some of them have become excellent Karate instructors. The Karate instruction in which Omoto Sensei guided his high schools was a general JKF style according to the rules for high schools in Japan.
Presently Omoto Sensei is a vice principal of a high school on one hand, while conversely blending in unity, his teaching of Karate to students, ranging from primary school to businessmen at the YUZENKAI DOJO, on the other hand. Because Omoto Sensei has strongly felt the necessity for the preservation and succession of ancient Goju-Ryu, and he sincerely believes in the need for accurate philosophical and spiritual research on Karatedo, he has been teaching a special course in Goju-Ryu and Kobudo at his YUZENKAI DOJO in Japan. He also feels that the current study of traditional Japanese Karate lacks the proper philosophical and ethical research as well as true perspective. Through the Goju Ryu International KarateDo Kobudo Union and the Japan International KarateDo Kobudo Union(GIKKU/JIKKU), Kancho Omoto, since 2013, has started to "spread the fruits" of his 40 year journey of sincere study in Gojuryu Karatedo Kobudo to people in countries outside of Japan "by his own hand".

What is "Nahate-Gojuryu"?.
This word is not a word that indicates the RyuHa name (style name). This is a word that shows my vision and mission. I am not trying to add a new novel style. I obtained the following conclusions as a result of researching Goju-Ryu for years. It is necessary to understand GojuRyu in terms of the Nahate category.In the Karate that belongs to theNahate category,there are GojuRyu,ToonRyu,RyueiRyu,
and UechiRyu.These Karate are in kinship, and their principle and combat thought are common.Especially,GojuRyu, ToonRyu, and RyueiRyu have a common founder named RyuRyuko. I am paying deep attention to this respect. (However, there is a
difference betweenthem concerning the legend of RyuRyuko.); And in these Karate, common KATA exists. For instance, SESAN and SANSERU exist in all. SANCHIN exists in GojuRyu, ToonRyu, and UechiRyu. SEIENCHIN exists in GojuRyu and
RyueiRyu.Of course, the same name KATA has some subtle differences.
However, these differences are not essential. Furthermore, the difference becomes
an important hint to interpret each KATA. I thought that it was of the greatest importance to recognize GojuRyu in the Nahate category. Four predecessors
(schools)chose Nahate because of experience and the aspect, and GojuRyu.
ToonRyu,RyueiRyu,and UechiRyu were created.To understand the truth of Gojuryu, I strongly believe that the same thinking in reverse, conversely, is necessary now. To understand the United States early history and culture, we would also have to know about the history and culture of Spain, Britain and France among other
countries.Therefore, I choose to reexamine GojuRyu from the Karate category named Nahate.Nahate GojuRyu is a word that indicates such a vision and the mission. However, the truth of GojuRyu is meaningless if not verified by the combat of the reality. We must not, however do real combat in our Dojo to understand this.
We also think that the verification of the truth is impossible in Yakusoku kumite.
YUZENKAI has devised JiyuKumite unlimitedly similar to the actual combat of GojuRyu for that. It can likely to be called, so to speak, full contact GojuRyu.
YUZENKAI is the succesor of the traditional technique of GojuRyu as a technique that can be used with free Kumite. We are devising full contact Kumite and light contact Kumite to use the technique in the GojuRyu 5 field composed of "striking
techniques", "joint lock techniques", "throwing", "constriction techniques", and
"grappling technique" development. The real value of Gojuryu cannot be verified by the WKF method and the full contact method. We are learning and studying traditional Kobudo. In the school training and teaching to boys and girls, we guide
sports Karate that values our basic philosophy.
We strive to recognize overseas international Dojo to study Karate Kobudo as our
partners. And, as they may feel necessary,we will assist in confirming and issuing DAN rankings according to their study results. For these Dan rankings, we will compile the appropriate curriculum, the syllabus, and contents. Moreover,YUZENKAI has enter a new stage as Trinity of GojuRyu, SyotokanRyu,
and Kobudo. Along with this, we have set up the "Japan International Kartedo Kobudo Union YUZENKAI". I do not hope for the expansion of the list of names
(quantity). I would like to invite those who research KARATE from various aspects
together. We also especially want to contribute to the region of developing
countries where Japanese Karate Instructors were not previously available.